D'Banj
D'Banj is one of the most scandalous celebrities in Nigerian history. A few years back, the Oliver Twist hitmaker was rumored to be part of the Illuminati Association. This came after controversial rapper, Kanye West, posted a tweet asking D'Banj and his then partner, Don Jazzy, to go back to New York to "finalize on some work."
A blog post on 'Wazobia Report' about how D'Banj and Don Jazzy were on their way to turn Nigeria gay later went viral and rumors of their homosexuality set on track. After his son, Daniel Jr., died, D'Banj has been living off camera and he doesn't seem to be interested in a life of fame again.
Flavour
Nigerian songwriter, multi-instrumentalist and musician Flavour has had rumors about his sexuality since the onset of his musical career. But what makes it interesting is that the Nnekata hitmaker may have brought it all on himself. For starters, Flavour shoots all his music videos shirtless, and not to say that that makes him gay, but looking closer at his life on social media, particularly Instagram, almost all his photos are semi-nude selfies. It is this obsession to public semi-nudity that has led rumors to surface that he might gay.
Back in 2016, Flavour posted a photo with Peter Okoye with the two hanging out in a swimming pool, shirtless. Many have since claimed that Okoye could be Flavour's gay partner
KCee
Kingsley Chinweike Okonkwo, better known by his stage name, KCee, has been a victim of Twitter trolling with many claiming that he might be gay. This is mainly because of his 'colourful' sense of fashion, which makes people associate his lifestyle to some feminine persona. KCee has, however, come clean and said that he is straight and that people shouldn't judge him by just what he wears.
Phyno
A few years back, an obscene photo of popular Nigerian rapper and music producer, Chibuzo Nelson Azubuike a.k.a Phyno, kissing another guy at a club surfaced online and rumors of his gayness began. He was later interviewed by Tribune about the same issue and cleared the air saying he had never kissed a guy in his life. In his own words, he said:
"The only thing that was in my head when I saw the picture was where did this happen. I said back then that a gangster like me could not have been involved in something like that. The fact is that I am not a gangster, and I don't want people to see me in that light. I think I am too serious and cool for that kind of thing. People say I'm gay. That's laughable because these same people reported some time ago that I impregnated a girl. So you can see that these things don't work together. My life is all about entertainment, as long as the people are happy about what they read, I am happy too."
Denrele Edun
Nigerian television host and award winner, Denrele Edun is perhaps the only Nigerian celebrity (and African, come to think of it) who is open about his sexuality. From his crazy lifestyle to feminine photos, Denrele has time and again been considered to swing both sides. In an interview with House Rules, the Nigerian controversial star admitted that he has both male and female admirers and that he gets eggplant photos from men all the time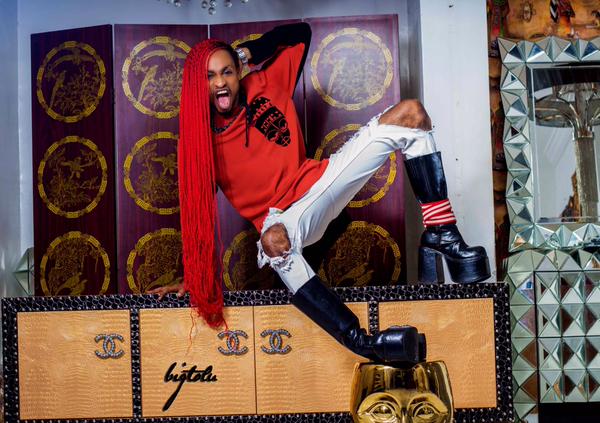 "Instead of approaching me, when they get my number, the first thing pictures…are correct eggplants, nestled rightly in the boys quarters," he said.
In another interview with Hip Tv, when asked about his sexuality, Denrele Edun simply said:
"So what about my sexuality? What about it? I have been labeled bi-sexual, heterosexual, asexual, pseudo-sexual, sexual-sexual, homosexual, hip-sexual, new-sexual and all of that. I just narrow it down to two words- I am a sexual outlaw. Take it or take it".
Denrele Edun has won The Dynamix Award winner for Best Youth Personality in 2006, 2007 and 2008 and his open-minded lifestyle may have led him to this kind of success. He has since announced that he intends to get married soon and everybody will be invited to his wedding, with no VIPs in the event