Popular 'Gold-digger' crooner Jackie Chandiru has been in critical condition thanks to her drug problem which has landed her in hospital. For the past two months, it is reported that the musician who rocked the region back in the day has been hospitalized and in critical condition due to her struggle with drugs.
It is alleged that the singer has been in very bad shape in Naguru hospital Surgical ward 4. Despite being admitted and undergoing treatment for substance abuse, it is reported that some girls smuggle drugs into the hospital for her. She then apparently took the drugs in the hospital bathrooms. It is also reported that her veins are so badly damaged that she has to be drugged orally.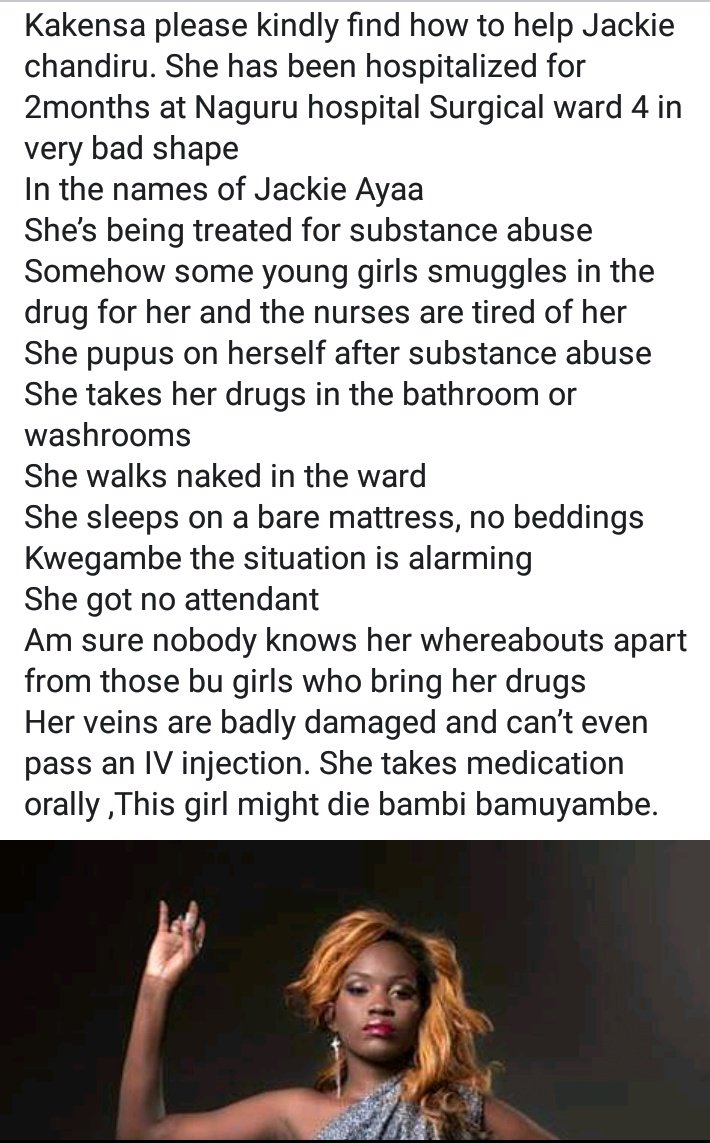 The news caused some frenzy online after they broke and some even went ahead to say that the musician is dead. This is not the first time that netizens have wrongfully declared that she has died. Her drug problem has had her killed online more times than anyone could count.
A screenshot with her Manager, however, disregards all those rumours as it is confirmed that she is alive.
Here are netizens reactions:
Lets chill drug abuse serious?, something must done to help #Jackie_Chandiru.
Information reaching our desk says that "Jackie chandiru has been hospitalized for 2months at Naguru hospital Surgical ward 4 in very bad… https://t.co/ZtxeTkNZQB

— Dexta media (@DextaMedia) September 3, 2019
Social media will tell you about using drugs but they will never tell you their fatal outcomes,let's pray for Jackie Chandiru .

— GENO ERIC (@genoeric1) September 3, 2019
Naye Nze sometime I don't want to join tags, Jackie Chandiru went to rehab, that was a great move, many people came out n helped her n still willing to, but question is "Does she want the help ?" Once u don't realise your mistakes n work upon yourself,thats stupidity.

— The Insurer ? (@HamidahKha) September 3, 2019
Jackie Chandiru is back and we are supporting her this year. ✊✊✊✊✊✊✊✊✊✊✊✊✊✊✊

— Iribagiza David (@Owomunshozi) January 3, 2019
Drug Abuse, Drug Abuse!

If what I've heard about Jackie Chandiru is true, that's sad. Really heartbreaking ?

— Mutana ❁ (@bruno_akampa) September 3, 2019
As we are talking about Rema – Kenzo r/ship, Martha Kay's comeback, Jackie Chandiru is again at it…. tusabile omukyaala ono

— kyasiimire phionah (@phionahk2) September 3, 2019
I don't judge Jackie Chandiru, but we youths should also reduce on the use of drugs banange.

— Wilfred Zahaa?? (@WZahaa) September 3, 2019