On Friday, the 16th of August, Socialite, and businesswoman specialized in cosmetics Huddah Monroe took social media by storm after she was featured in top Los Angeles (US) magazine Harper's Bazaar.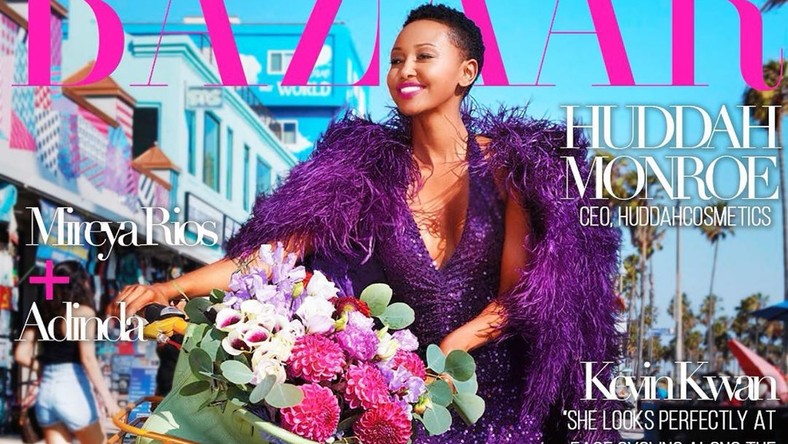 Kenyans on many social platforms such as twitter, Facebook an Instagram shared Huddah's photos appearing in the Bazaar's Magazine congratulating her for making such a huge bossy move.
Amidst many congratulatory messages, some doubting people claimed that the pictures were photoshopped.
So Huddah photoshopped her photo onto the cover of a prestigious magazine and KOT believed it. pic.twitter.com/u5BB2JpfqZ

— CFC Di Ravenna (@cyrusville) August 16, 2019
Ms. Monroe who does not hesitate in dropping salvage comebacks to her haters responded immediately to haters telling them they will never even in their wildest dreams feature at least on a toilet paper.
Some people will never even in their dreams be featured on a toilet paper. Bora ilikufikia. Stay hating… the sky is our point of view.
Huddah wrote on her Instastories.
While many people spoke about the photoshopped picture, people assumed that Huddah was addressing Kamene Goro whom they have been beefing over Hudda's source of wealth.
Responding to a question posted on social media Netizens claimed that Huddah was responding to Kamene Goro. quoting Huddah's words, the question went like this;
HuddahMonroe Statement after she was featured on the cover of Harper's Bazaar Magazine. who do you think #Huddah is talking about?
Responses;
Joshuandiiga
Kamene ?
mike_mutush
Kamene
abunwasi_
Kameno goro ????
davidmctonjedavie
Just somebody she knows and the person talked badly
However, some people believe that Hudda must have been talking about one blogger who bashed her after the news of her huge success came out. Here!
essy.92
@mkamburichigogo hudah amekushikia moto?????