Popular Nigerian singer David Adeleke, aka Davido, has been caught up in rare allegations of being a deadbeat dad. Considering we know the star to be a hands-on dad who takes care of his kids, the allegations by his fist baby mama have shocked netizens.
A social media post shared by his first baby mama Sophia Momodu has raised eyebrows. The singer's baby mama shared a post on her Instagram talking about parenthood.
On the post, Momodu expressed that sometimes she wished she could just be a father and a mother to her daughter, Imade.
The baby mamas post is however taken to be a perceived frustration that Chioma blocks her attempts to get money from the singer. The dissatisfaction in Sophia's outcry has been linked to a fake account which has reportedly been attacking Chioma.
The post clearly got Davido's attention as some claimed that his current girlfriend Chioma hardens the money distribution process.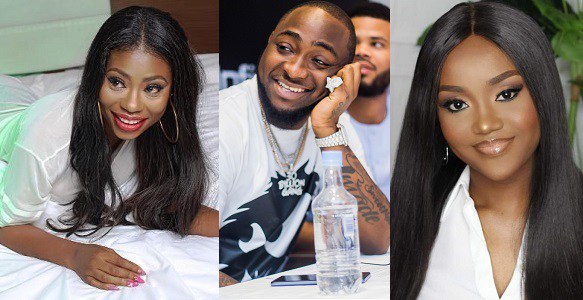 Reacting to the post, Davido said "if YOU GOT BALLS, SEND IT YOURSELF, @theChefchi don't mind dem, BALL !!!!  nobody tougher than a hungry ass little witch (with failed plans) behind a fake account!"
"I'm not responsible for anybody's misfortune pls, leave meeeeeee pressed for no reason, sigh" Chioma added.
Here are screenshots of each of their responses;
Davido and his baby mama recently paired up to help launch their daughter's business.
The allegations have caught netizens unawares and stunned many. Here are their reactions;
Benter Auko Davido is a good father and is totally there for his kids, he is not a deadbeat like Diamond. I don't think chioma has issues with those baby mamas. Lakini dating these men with multiple baby mamas needs strength and energy, it is always drama. They should borrow a leaf from Grace msalame
Annyy Willys tukimalizana na Davido turudi kwa chibu dangote
Ashley Michelle 
Sybl Almamupa nimesoma somewhere that chioma ako na ball. 
There was another 5yr old last year claiming to be his daughter but Davido alikataa.
Jezb Livia 
Achaneni na dee plz hapa tunaongelelea davido
Njeri Njesh 
The baby mama is money hungry ,davido does alot for his kids
Brenda Lincoln 
Yaani mko Nigeria na bado mnang'ang'ania kurudi Tanzania 

?

?

?