A Kenyan gay model Robert Wanyeki better known as Robettah Prince has exposed a controversial Gospel artist Alex Apoko popularly known as Ringtone for allegedly hitting on him.
Taking to his instastories, Robettah revealed how Ringtone was complimenting his appearance instead of motivating him.
"Some of these gospel musicians can't help you . I text this guy he is my motivation he starts commenting how good am looking instead ya kunipea motivation ya kunisukuma Sukuma na Maisha" he posted.
Has Ringtone got tired of searching for a female partner?
Sometimes back, the self-proclaimed chairman of the Gospel industry took to his social media account to announce that he was tired of living a lonely life and so he is in need of a life partner.
The Tenda Wema hitmaker went overboard with his search, Ringtone and created a placard of his qualities while begging for a wife.
He even went to the extent of doing window shopping-clothes of his future wife. He said God will soon give him a wife and so he wants a lady who will wear fitting clothes since will be pastor's wife.
However after releasing a song featuring famous Tanzanian video vixen he went mute on his wife search mission.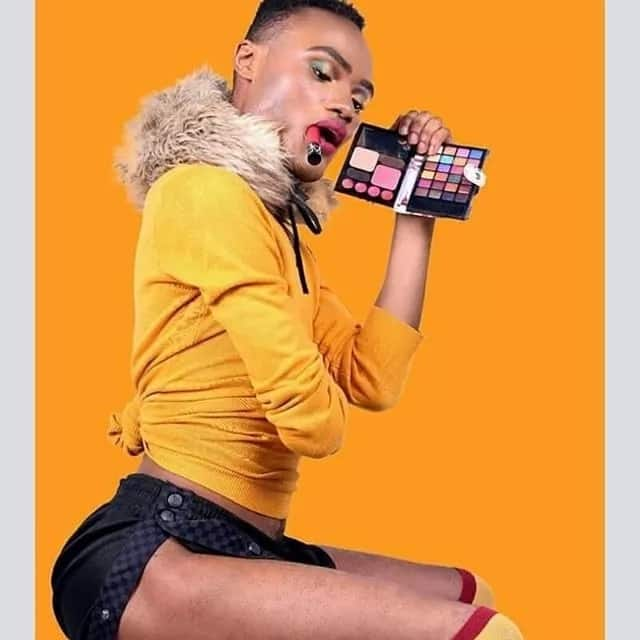 Robettah Prince is one person who has gained from these freedoms a daring Instagram model who is unabashedly gay and proud of it.
Not only that, but he also crossdresses unapologetically! Robetta recently revealed that his round bum and his lighter skin had cost him a lot of money.
Robettah confesses that his wonderful body came at a price that would cover the cost of a Mercedes E 350, which at conservative estimates can cost 1 million shillings minimum!
He explained on his Instagram page;
"I did a lot of research, this process has taken more than eight months to achieve this look. Especially skin lightening, we had to come up with a formula to stop melanin production".he wrote.