For a while now, the Jamaican reggae and dancehall artiste Konshens has swept ladies off their feet with his charm. The dancehall superstar has had ladies around the word falling crazy for him. With most Kenyans looking forward to the psyched up concert on Saturday, Konshens and his wife Latoya Wright have sparked divorce after two years of marriage.
The couple, who have a son Liam, were in a relationship for six years before getting married in Florida on November 19, 2017. The reason for the separation is unknown at the moment, but his fans everywhere are devastated. Apart from our Kenyan ladies, because guess what? It's going down on the 7th, he might get lucky, you never know.
Taking to her Instagram, Latoya later made a post stating:
"I'm not into advertising my personal life online. BUT I need everyone to know this so if and when he starts with the "single man acts" then y'all know he really IS single and it's OK for him to act however he pleases. This post is not coming from any place of anger!! Still love…. always!"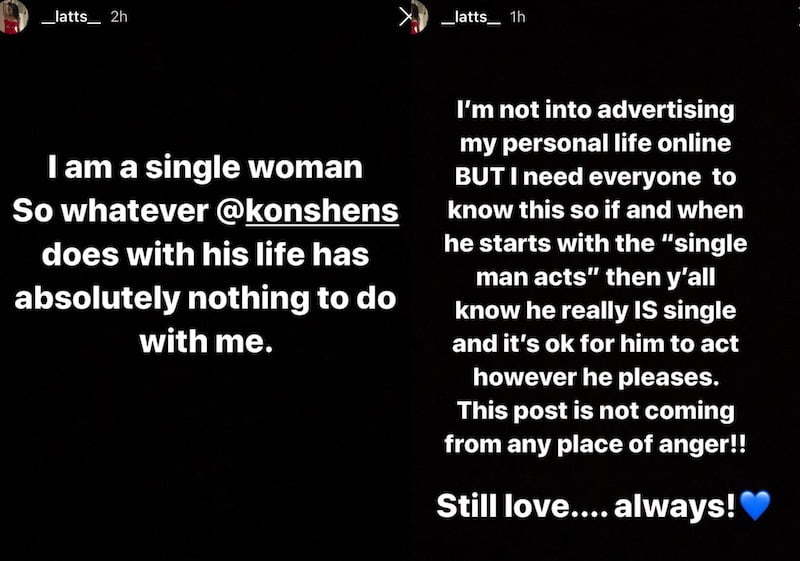 Here were some reactions.
i_am_mcandrew
Alijua akikuja kenya Mayengs watamteka . huku ni kubaya??
Haaha uko hyped konshens ako single as if yall stand a chance ?

— Ahmed (@siyat_99) August 31, 2019
the_serea__
So he is coming to kenya single???☺️☺️☺️
Konshens has broken up with his wife just a week before he comes to Kenya??

— Peter Mwanje (@Ptahdaboss) August 30, 2019
nimo_vp
Cute Boys Association ni stress tupu ?????
Konshens atatoka na bibi Kenya after 7th??.

— Wamathai Kariuki (@wamathai_derrek) September 1, 2019
abunwasi_
Alafu koshens ajam akatae kukam???