A section of gullible congregants have found themselves on the spot after their weird worship practices went viral.
The said congregants, who are victims of fake preachers, are forced to do some weird things so that they can receive miracles.
Here are some of the things they do for miracles.
Kissing in Church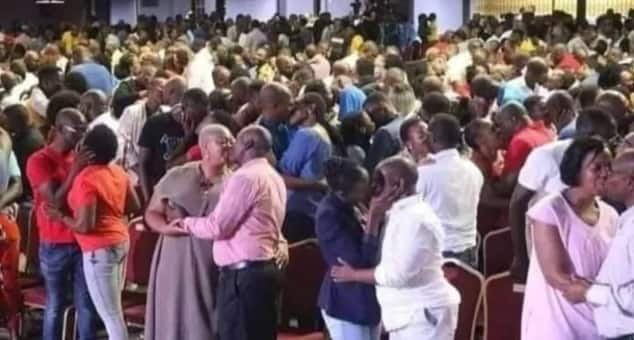 Congregants of Hope Restoration Ministry shared a romantic kiss in church after their pastor ordered them to do.
In the photo that has gone viral on social media, the members of the church could be seen locking lips with whoever is next to them.
Hope Restoration Ministry is said to be one of the biggest churches in South Africa with a large following.
Removing underwear
South Africa Pastor Paseka Motsoeneng popularly known as Prophet Mboro found himself on the spot after he told his congregants to remove their underwear in order to "attract Angels from heaven."
Captured on tape, Mboro told them to wave the underwear high and hold their private parts "so that angels can impregnate and bless them."
The crowd followed his word to the latter, waved underwear in the air as they dance with joy.
REMOVE YOUR UNDERWEARSouth African Prophet Mboro Asks Congregation To Remove UnderwearSouth african Prophet Mboro Ask Congregations To Remove Underwear And Wave It, and touch their private part. Many people are calling out the South African Pastor for being a pervert, after he converted his service into a full pervert show by asking his congregants to remove their panties and wave them in the air like some sort of ritual. To some critics amazement, the church-goers obliged and soon started waving their panties in the air. Though it is not clear what the pastor was trying to achieve by asking the unimaginable of his congregation as the worship session is going on, however he was heard saying, "Must we stop because somebody does not like it?" While this took place, the pastor placed his hand firmly on his gentials. While he prayed, his members also imitated him and also placed their hands on their genitals.African TV

Posted by Social Media Buzz Zambia on Tuesday, 15 May 2018
Kissing Pastor's feet
Photos of church members kissing the feet of their pastor have surfaced online and receiving massive criticisms from all and sundry.
It was reported that the pastor revealed to his congregation that he is about to literally walk to heaven and in order for the congregation to receive blessings when he gets there, they need to kiss his feet.
The photos which you can see attached show both men and women kissing the feet of the pastor whiles he sits comfortably on his sofa in church.
Stripping during church service
Prophet Penuel Mnguni of End Times Disciples Ministries in Soshanguve extension 13, Tshwane, South Africa made his members strip during service and stepped on them.
According to him, God placed Adam and Eve in the Garde of Eden naked.
"God placed Adam and Eve in the Garden of Eden with no clothes on, and because they had faith in the Lord, they didn't even know they were undressed."