Kenyan rapper Timmy Tdat has for the first time come out to reveal the reasons as to why he deleted his raunchy video from YouTube.
Timmy's 'Vitamin U' featuring Tanzanian female rapper Rosa Ree , mysteriously disappeared from YouTube hours after it was uploaded following the public's outcry over the nudity in the video song.
Speaking during an interview, Kasabun finest revealed that he took the step of deleting the video because he wanted to save his Tanzanian 'bae'.
Timmy went on to say that, ever since Vitamin U was released, different organizations in Tanzania was on the neck of  Rosa Ree,
"Nilitoa video juu ya Rosa Ree side ya Tanzania ilikuwa ngori, Monday Tuesday na Wednesday alikuwa wa kesi tofauti,Monday sijui alikuwa kwa kina nani, Tuesday alikuwa kwa board ya filamu alafu Wednesday ndio alikuwa basata yenyewe,"he revealed.
Adding that he will upload again the video after they have edit it.
"Iyo video the more ilikuwa inaka hapo inaka kama yeye ni kichwa ngumu alafu those guys wawezi kuelewa kwamba iyo  ngoma iko kwa channel yangu na sio yake,"he said.
"Mimi kitu poa nlido nikudelete video mambo itulie alafu niipige edit, tumeedit video kitu kila mtu annaweza kuiona".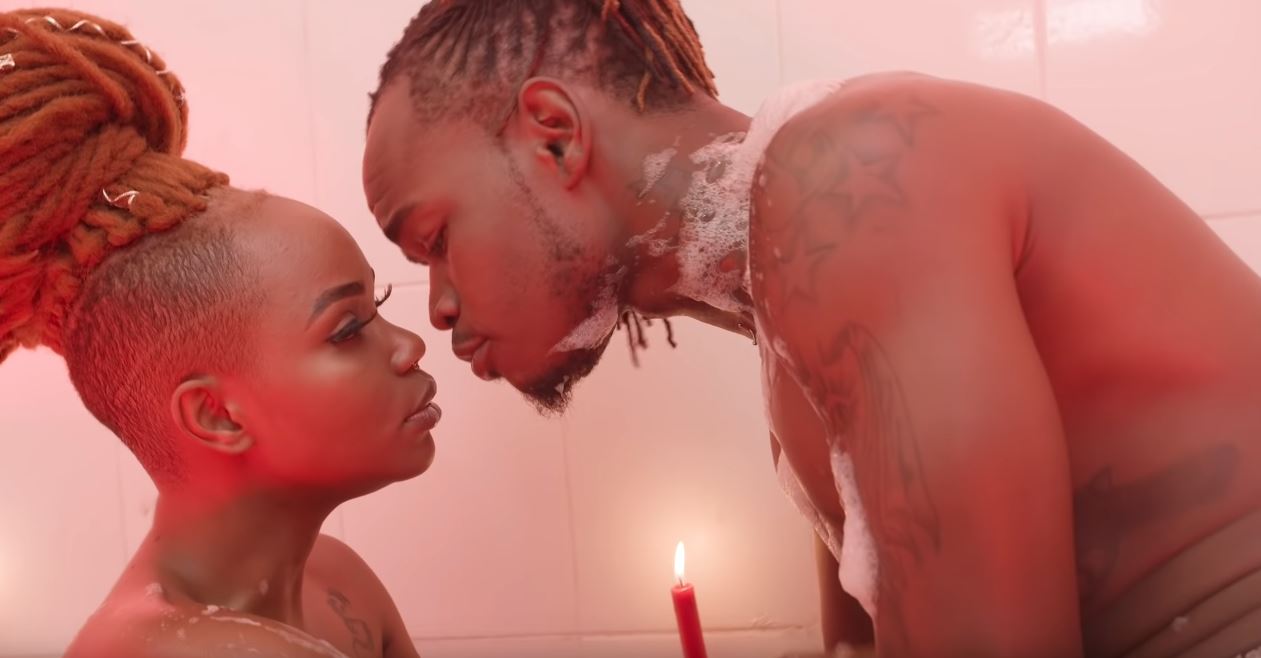 Defending his actions, unapologetic Timmy went on to say that they were half-naked contrary to what was exposed in the viral video,adding that
"Tulikuwa na nguo za chini pale kwa bathtab lakini producer hakutaka kuioyesha juu ingetoa maana ya iyo video alafu picha zengine hatukuwa close sana ni editing tu",he revealed.
"Mi nahisi watu hawakunielewa juu sioni kama nilifanya makosa, lakini kwa mtu anafeel amekosewa naomba msamaha juu aim yetu haikuwa kukatisia mtu ama kupotosha mtu as guys we were doing what we can do best, tulitaka kufanya kitu different ."
Rosa Ree's  apology
Tuesday afternoon, the 5th of November, she made a public apology after the meeting by Basata over her raunchy video.
Through an Instagram clip, Ree expresses regrets of shooting the video.
"My name is Rose Ree, I am a Tanzanian musician, I would like to say sorry to everyone who was offended by the video that has been doing rounds on social media. Today, I had a meeting with Tanzania Films Board and they have enlightened me on a number of things that I did not know. I have learnt about their regulations. From today onwards I will be forwarding my scripts to them and we will work together in harmony,"she said.